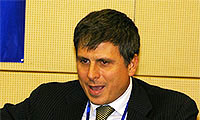 He is Medical Director of the Unit of Interventional Radiology at the European Institute of Oncology, Professor of Radiation Oncology at the Milan University (from 2000),
Visiting Researcher of MR research center in the Massachusetts General Hospital and a Member of Cardiovascular and Interventional Radiological Society in Europe (CIRSE).
---
"Concepts of medical treatments are constantly improving and developing from invasive, minimally invasive to non-invasive. On the way of treatment while avoiding damage, ultrasound ablation will become the major method for tumor treatment.

As a surgeon, I was not willing to put down my scalpels, until I saw the first patient with uterine fibroids treated by ultrasound ablation discharged on the treatment day, saving the bed for other new patients, and another one went swimming three days after ultrasound ablation. These totally changed our views. It was a great privilege to patients: no need of hospitalization, no scar left, no need to wait for long and regain health so easily."
---